29 Mar 2008
The perfect roast chicken
I have watched Heston Blumenthal and liked him very much. I tried some dishes from the program which is the perfect roast chicken. It was work very well. I used the technique which is called "low-temperature cooking". This technique use low temperature and long time to cook. Moreover, there are some techniques that I used from the program which I'll show in this article. This dish use a whole organic chicken and approximately 1 day to cook.
Directions
Soak the poultry in 8% slated water for 6 hours.
After 6 hour, soak the poultry in cold water for 1 hour, but change the water every 15 minutes.
After 1 hour, plunge the poultry into boiling water for just 30 seconds and plunge into iced water to stop the heat penetrate into the poultry. Do this process 2 times. This process makes poultry to more succulent and juicy.
Dry the skin with tissue paper and leave it in the fridge for 1 day. This process makes the skin crispier.5. Roast the poultry in the oven for at least 3 hours at 60C. Use thermometer the measure whether the poultry cooked or not. Make sure that the deepest of the poultry stay at 60C at least 15 minutes. You will please with this result.
6 However, this technique doesn't brown the skin. You can fried the skin later if you want.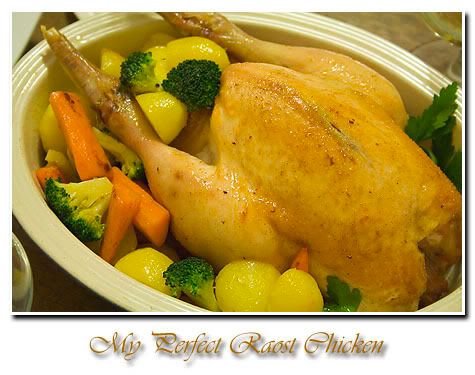 This chicken uses the above technique. The skin was crispy and the flesh was juicy and succulent. When I carved the poultry, I could see all of the juice came out. It was superb.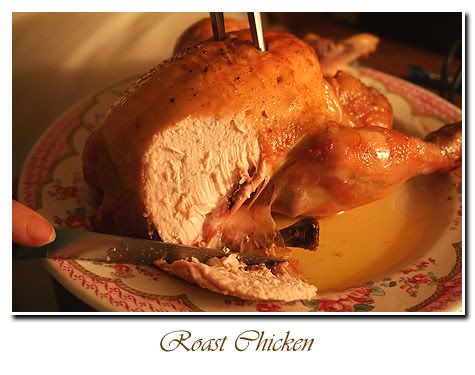 This chicken I didn't use the above technique. I could see the different between those two. When I carved the poultry, the flesh was soft but not succulent, because all the juice come out duringroasting time. I could see the fat sitting at the bottom of the tray.
Til next time,
noppanit at 00:00