02 Jul 2012
London Startup Weekend 2012.
I guess I should write this blog whilst my memory is still fresh. Last weekend, I went to London Startup Weekend with Eewei. Our idea was that we could save time of busy professionals by suggesting movies based on their tweets. It's called http://www.emotivu.com. The event is really good to help young entrepreneurs start up a business. Every body comes up with an idea and the participants will vote on the idea they're interested in doing for the next 54 hours. It was intense, less sleep but good food. Unfortunately, I forgot to take pictures of us having BBQ.
What I have learnt from this event is small team has more advantages than bigger team and of course less stress. Small team tends to talk to each other a lot, even though I'm a dev I still have to pair with the UX/UI to get fast feedback. And 54 hours is not a lot, you have to come up with a business plan, marketing plan, get the prototype up and running. You also have to validate your idea with real customers to see if you idea has legs. And the final thing is the final presentation. At the end judges will give you advices on how to improve the idea. And after 54 hours you could carry on with the idea.
Customer validation is key
To sum up, the whole event is a really good experience for me. I got to learn a lot of stuff apart from just coding. I really recommend whoever is interested in a start up. The other event that I used to go is Launch48 which is the same stuff.
These are my teammates. Eewei, Colin and Jonathan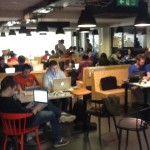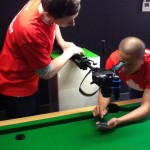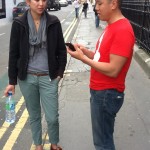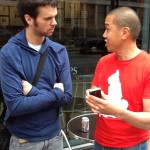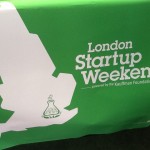 Til next time,
noppanit at 00:00