Beef Noodle in Hamburg
Well, I know I have been posting about something else other than geeky stuff. But it's good to do something else and as my twitter bio said. I'm foodie. So, one day I was working in Hamburg and got bored and craved for Chinese food. After a little asking on my old friend "Google" I ran into this post. http://mealbymel.blogspot.de/2011/09/meister-lo-nudelhaus.html and I went. My first impression would be that the restaurant is compact, you can see an open kitchen. As I said I craved for Chinese food, so I didn't even look at the menu and ordered "Beef noodle". This is what I get, my picture is not that good but the taste says different.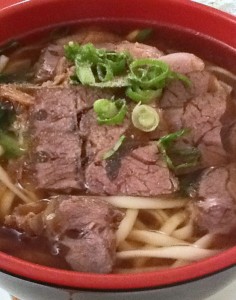 I'm a little disappointed by the noodle as the blog above said but the meat which is the heart of this dish is delicious. It's chunky and meaty, and the soup is clear and not too strong. The location is not quite good as it's quite a walk from the station and to get there by Bahn. And I guess that's why they can keep the cost down as for the appetiser, noodle and a melon cost me just 8 euros. If you're in Hamburg and want to have taste some authentic Taiwanese, you should try it out. And I'd go back there if I have a chance.
Meister Lo's Nudelhaus
Wandsbeker Chausse 40
22089 Hamburg
U1-Wartenau